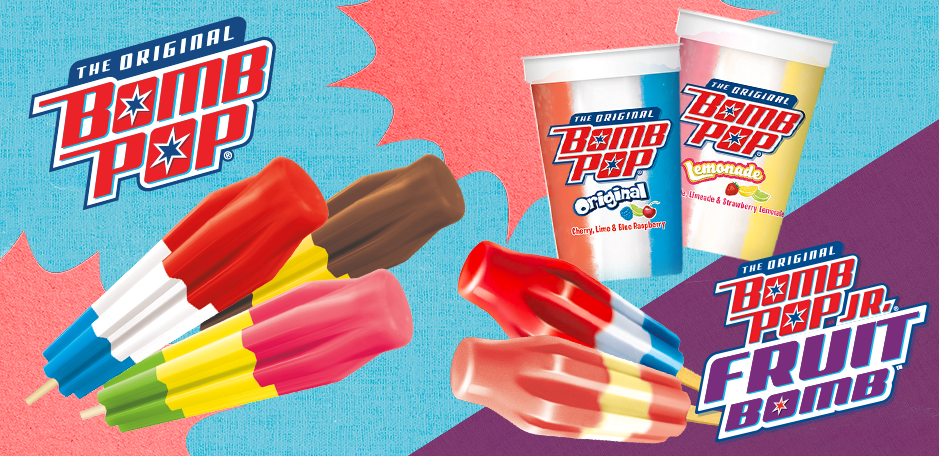 The pop at the top of innovative dessert offerings.
Kids—and adults—of all ages love The Original Bomb Pop®. This iconic frozen treat is colorful, delicious and so much fun to eat! In addition to our lineup of classic varieties, we offer exciting new formats including Bomb Pop® Cups and smoothie-inspired Bomb Pop Fruit Bomb® ice pops.
Bomb Pop Cups
Portable, no-mess convenience
Demonstrate high purchase intent at work or higher education settings - DataSensials concept test 2017
Bomb Pop Fruit Bombs
Made with real fruit purée and fruit juice concentrate
No high fructose corn syrup, no artificial flavors and no artificial colors
Better-for-you snack in flavors that kids crave, while meeting Smart Snack requirements***
***Based on the USDA's Final Rule for Competitive Foods in Schools, dated July 2016. State requirements may vary.
Not only do Bomb Pops make the perfect on-the-go snack, they can be used as an eye-catching and tasty topper for signature beverages. Consider the following ideas and get creative with your own bold combinations!
The JOLLY RANCHER trademark and trade dress are used under license.
Craving more?
Wells makes serving signature desserts and snacks a convenient, affordable, and profitable option.
Contact Us