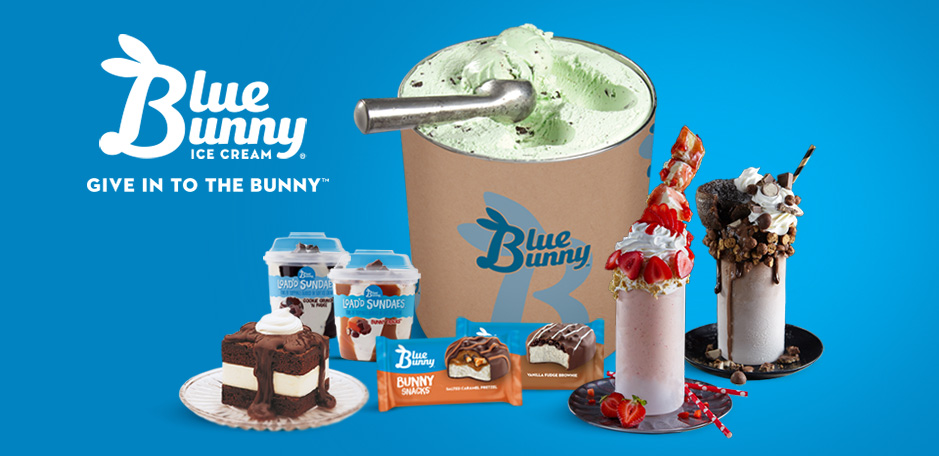 The ice cream your customers can't resist.
On the go, in a cone or in a cup—when it comes to your guests' favorite desserts, ice cream truly reigns supreme. In fact, 87% of consumers say they like or love ice cream!1 Under the Blue Bunny® brand you'll find everything from individually wrapped novelties to 3-gallon tubs of decadent ice cream—the flavors and formats to make it easy to serve signature desserts in your operation.
Snackable Treats
The snacking trend shows no signs of stopping, and ice cream hits on consumer demand for a bit of delicious indulgence. Research shows that 60% of consumers who purchase snacks away from home look for items that are sweet, no matter the daypart.2 That's why Wells Foodservice offers the ideal lineup of grab-and-go ice cream snacks, including individually packaged Blue Bunny Bunny Snacks® and perfectly portable Blue Bunny Load'd Sundaes®. These operationally friendly treats deliver impressive profit potential—sweet for your bottom line.
Blue Bunny Bunny Snacks demonstrate 95% consumer purchase intent*

Dipped, coated and loaded ice cream treats are a great way to satisfy dessert cravings
Perfect for QSRs and non-commercial channels (i.e. Healthcare and Business & Industry)

Blue Bunny Load'd Sundaes were named the #1 New Ice Cream Innovation by Nielsen**

Soft ice cream loaded with toppings, deliciously swirled together—available in unique flavor combinations
Impulse-ready packaging is easy to store and handle, with no waste, no cleaning and no cross contamination
Ideal for building carry-out and delivery business, as well as non-commercial segments with concessions and/or micromarkets
*Datassential concept test, 2018. Percentile score vs. 2000 other dessert concepts.
**Nielsen U/I/S/W YTD WE 6/8/18
3 Gallon Packaged Ice Cream
Hard pack ice cream is at the core of the Blue Bunny product portfolio. Choose from dozens of smooth, creamy flavors that are delicious on their own or can be transformed into LTO desserts, signature sundaes, extreme floats and shakes, ice cream sandwiches—even indulgent breakfast items! We also offer no sugar added, dairy free and fat free frozen yogurt options so you can meet the needs of customers with dietary restrictions, as well as clean label offerings that can command a higher price point on your menu.
Blue Bunny Premium Ice Cream

Rich, crave-worthy flavors that cover all the bases, from classic to on-trend
Elevate your menu offerings with ice cream–based signature desserts

Blue Bunny Sherbet, Sorbet, No Sugar Added and Fat Free Frozen Yogurt

Alternative options that are creamy and delicious—perfect for smoothies or shakes, too

Blue Bunny Simple Scoops®

Clean label varieties made with no artificial flavors, no artificial colors* and no high fructose corn syrup
40% of consumers say they are willing to pay more for foods that are labeled "clean"3
*Added colors from natural sources
Prepared Portions
Easily create layered desserts while saving on labor costs, thanks to our pre-sliced and pre-scooped offerings. With Blue Bunny Big Slice® Vanilla Ice Cream and Vanilla Bean Scoops® as your foundation, the signature menu possibilities are endless.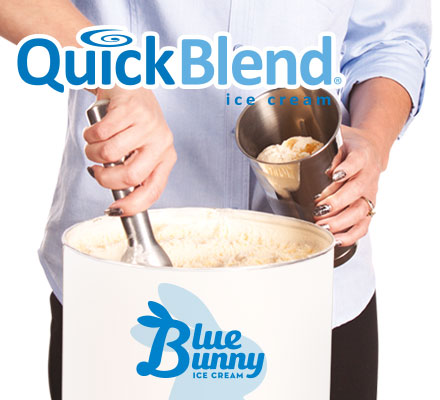 Quick Blend® Ice Cream
This easy-to-scoop ice cream is truly a timesaver—ideal for malts, à la mode or portion cups. Our unique formulation means you can blend a shake on a spindle blender in seconds, compared to 1 to 2 minutes of blending time using regular ice cream.
Merchandising Support
Wells Foodservice is here to help you sell more of what your customers crave! We offer point-of-sale marketing materials such as floor graphics, freezer clings, table tents and customizable social media posts to help drive demand for Blue Bunny products.
Sources:
1Datassential FLAVOR, 2019
2Mintel, Snacking in Foodservice US, January 2019
3Technomic, Clean Label Study, 2016
Craving more?
Wells makes serving signature desserts and snacks a convenient, affordable, and profitable option.
Contact Us