Dippin' Dots
Satisfy the Health-Minded Snacker
Dippin' Dots Fruit Pearls® are made with real fruit and creamy yogurt, a delicious, all-natural alternative to ice cream for all ages. Snackers who graze will feel great about enjoying Fruit Pearls any time of the day.
Low-fat
Gluten free
Good source of Vitamin C
No artificial colors, flavors, or sweeteners
Simple, real ingredients (no GMOs or high fructose corn syrup)
As low as 55 calories per serving
Perfect for a morning snack
Wildberries 'N Cream flavor is Smart Snack approved
Fruit Pearls are the first and only Dippin' Dots product suitable for regular freezers, so there's no need for additional -40° storage.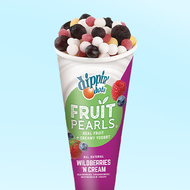 Fruit Pearls
Squeeze, shake, open, and enjoy a delectable mixture of creamy yogurt and natural fruits, including real Florida citrus!