Lemon Meringue Float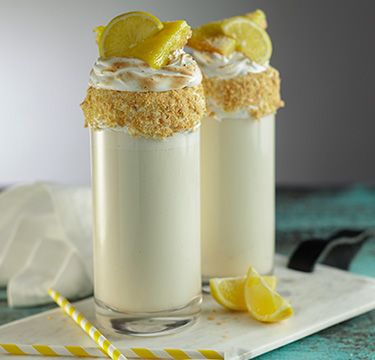 Sparkling lemonade in a tall, meringue and pie-crumble coated glass, topped with a giant scoop of vanilla bean ice cream, a slice of lemon bar and plenty of meringue frosting—bruléed for true pie appeal.
Ingredients
Directions
Spread a generous ¼ cup of meringue around the rim of a standard pint glass, and then roll the meringue in pie crumbs to create a crumb-rimmed glass. (Hint: Rimmed glasses can be prepared up to 12 hours in advance.)
Scoop three #12 scoops of Blue Bunny Simple Scoops Vanilla Bean Ice Cream into prepared glass. Top with sparkling lemonade.
Top sparkling lemonade with ¼ cup meringue and brulèe it. Place lemon bar over brulèed meringue and serve immediately.
Chef's Tip
Substitute marshmallow crème for the fresh meringue if desired.
The Scoop
Incremental dessert sales, and thus higher check averages, could result from brands taking risks and putting a new twist on an old standby.
Technomic 2015 Dessert Consumer Trend Report