This Shake is Bananas (Split)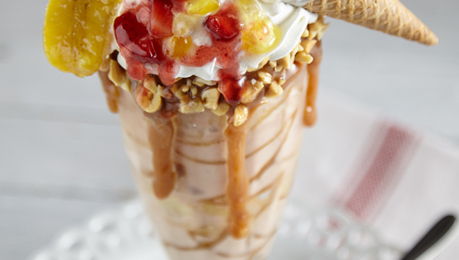 Banana split ice cream blended with strawberries and pineapple and served in a caramel-peanut rimmed glass, topped with plenty of whipped cream, fresh strawberries and pineapple, a brûléed banana and a maraschino cherry.
---
Ingredients
3 #12 Scoops Blue Bunny® Banana Split Ice Cream
¼ cup whole milk
4 Tbsp caramel
4 Tbsp chopped roasted peanuts
2 each strawberries, sliced
2 Tbsp pineapple, crushed, drained
1 each miniature banana, peeled, split, brûléed
¼ cup whipped cream topping
1 each maraschino cherry
1 Tbsp chocolate sauce, to drizzle
1 Tbsp strawberry sauce, to drizzle
1 Tbsp pineapple sauce, to drizzle
Order Product
---
Instructions
Place ice cream and milk into blender; blend until smooth.
Rim 16 oz pint glass with caramel and chopped peanuts.
Place split banana on top of glass; fill glass with milkshake, alternating layers of milkshake and crushed pineapple.
Top cup with whipped cream and sliced strawberries.
Drizzle with chocolate, strawberry, and pineapple sauces. Finish with cherry on top.