Birthday Party Sundae Extreme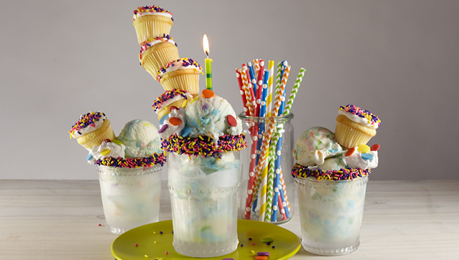 Cold lemon-lime soda in a pint glass with a rim of chocolate glaze and multi-colored sprinkles. The glass is filled with a generous scoop of birthday cake ice cream and a tiny cupcake, and then garnished with extra fluffy whipped cream frosting and more sprinkles—candles optional!
---
Ingredients
2 Tbsp chocolate glaze
2 Tbsp multicolored sprinkles
4 each mini frosted cupcakes with sprinkles
3 #12 scoops Blue Bunny® Birthday Cake Ice Cream
8 fl oz lemon-lime soda
¼ cup whipped cream
As desired additional sprinkles or multicolored candies
Order Product
---
Instructions
Dip a standard pint glass into chocolate glaze, and then roll the glazed rim in sprinkles to create a sprinkle-rimmed glass. (Rimmed glasses can be prepared up to 12 hours in advance.)
Stack 4 mini frosted cupcakes on a 12" bamboo skewer, set aside.
Scoop three #12 scoops of Blue Bunny Birthday Cake Ice Cream into prepared glass. Top with lemon-lime soda.
Top float with whipped cream and additional sprinkles as desired. Gently place cupcake skewer into float and serve immediately.