Butter Pecan Brownie Sandwich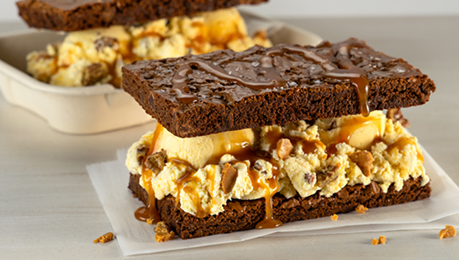 Two chewy chocolate brownies are stuffed with rich Blue Bunny® Butter Pecan Premium Ice Cream, caramel sauce and buttery praline crunch.
---
Ingredients
2 each Brownie (cut in 2" by 4.75" rectangles)
2 #12 scoops Blue Bunny® Butter Pecan Premium Ice Cream
1 tbsp Butterscotch Sauce, drizzled
3 tbsp Pecan Praline, crumbled 
Pecan Praline, yields 3 cups, crumbled
1 cup Sugar, granulated
½ tbsp Baking Soda
½ cup Heavy Cream
1 cup Pecans
1 tsp Salt, Kosher
Order Product
---
Instructions
Cut room temperature brownie into two, 2"x 4.75" pieces. 
Using a standard green handle ice cream scoop, place two scoops of ice cream on the one of the brownie pieces. 
Top the ice cream with butterscotch sauce and pecan praline chunks. 
Place the second piece of brownie on top of the garnished ice cream to complete the sandwich.
Optional: wrap the ice cream sandwich in parchment paper for an on-the-go treat.
Serve immediately. 
Pecan Praline Directions
Combine sugar, baking soda and heavy cream into a medium sized sauce pot. 
Cook until the mixture reaches 235 degrees Fahrenheit. Stir occasionally to prevent burning.
Once the mixture is up to temperature, stir in pecans and salt. 
Spread the mixture onto parchment paper.
Once the mixture is cooled, pulse it into smaller pieces in the food processor.
Store in a cool, dry place.