Celebration Cookie Sandwich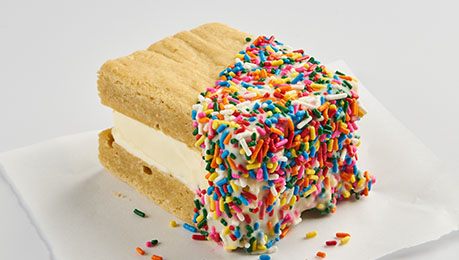 Vanilla ice cream sandwiched between two blondies half dipped in white chocolate and covered in rainbow sprinkles.
---
Ingredients
Sandwich
1 Blue Bunny® Big Slice® Vanilla Ice Cream
2 each Blondie squares (cut 3 ½" x 2 ½")
1/3 cup white melting chocolate, melted
1 Tbsp rainbow sprinkles
Blondie
½ cup unsalted butter, melted
½ cup brown sugar, dark
1/3 cup granulated sugar
1 egg
1 tsp vanilla extract
1 cup all-purpose flour
1 tsp Kosher salt
Order Product
---
Instructions
Sandwich
Place vanilla slice on top of one blondie square. Top with additional blondie square.
Dip half of sandwich in melted white chocolate.
Cover melted chocolate area with rainbow sprinkles.
Place in freezer for 30 seconds to set chocolate before serving.
Blondie
Grease and line 8x8" baking pan with parchment paper.
Add butter and sugars to a mixer fitted with a paddle attachment. Mix on medium speed for 2-3 minutes or until fully incorporated.
Add egg and vanilla, mix to combine.
Add flour and salt, mix gently just until flour has been evenly incorporated.
Spread mixture evenly in prepared pan.
Bake at 350⁰ for 22-24 minutes, or until edges are just turning golden brown.
Remove and cool completely before cutting.
Chef's Notes
Blondie can be swapped out for rice krispie treats, pop tarts, or other ready-made treats for ease of operation.
Sandwiches can be made ahead of time and stored in the freezer for easy service.
Chocolate chips, crushed nuts, or other small candies can be used in place of rainbow sprinkles.