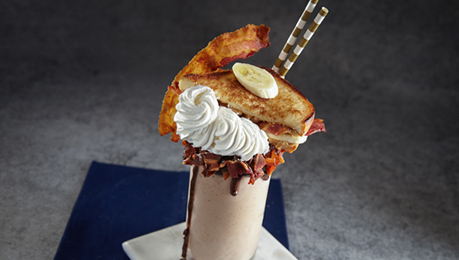 Peanut butter & fudge ice cream blended with fresh bananas, crunchy bacon and a fudge drizzle, served in a fudge and bacon-rimmed glass with a mound of fresh whipped cream and a full-sized toasted peanut butter, bacon and banana sandwich.
---
Ingredients
3 #12 Scoops Blue Bunny® Peanut Butter and Fudge Ice Cream
1 each banana, whole
1 slice bacon, cooked, chopped
2 Tbsp chocolate fudge sauce
3 fl oz whole milk
¼ cup chocolate fudge sauce
¼ cup whipped cream topping
½ sandwich toasted sandwich (sub-recipe)
½ each banana, sliced
Toasted Sandwich (2 Servings)
2 slices white bread
2 Tbsp mayonnaise
4 each bacon strips, cooked
¼ cup peanut butter, creamy
1 each banana, sliced
Order Product
---
Instructions
Place ice cream, whole banana, cooked bacon, 2 Tbsp chocolate fudge sauce, and whole milk into blender; blend until smooth.
Rim a 16 oz pint glass with ¼ cup chocolate fudge sauce and chopped cooked bacon.
Pour shake into glass.
Garnish shake with whipped cream topping, banana slices, and toasted sandwich.
Toasted Sandwich
Spread mayonnaise on one side of each piece of bread.
Lightly spread peanut butter on plain sides of each piece of bread; layer with sliced bananas and crispy cooked bacon strips; close sandwich with second piece of bread.
In a pan or on a flat-top, toast sandwich on each side until golden brown. Allow to cool.
Cut sandwich in half diagonal from corner to corner; set aside for use in final dish.