Spiced Mexican Chocolate Float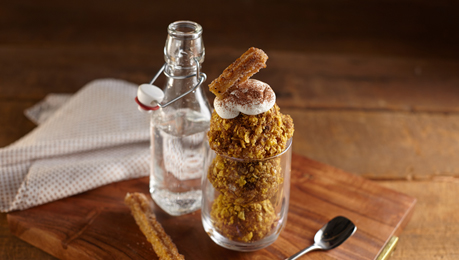 A glass coated in a spicy cocoa-sugar rim, filled with fizzy chocolate soda scoops of "fried" chocolate ice cream and cinnamon ice cream, topped off with Mexican chocolate fudge sauce, fresh whipped cream and finished with a crispy cinnamon churro.
---
Ingredients
3 #12 scoops Blue Bunny® Cinnamon Ice Cream
½ cup "fried" ice cream coating (recipe follows)
1 Tbsp cinamon sugar
4 fl oz horchata
4 fl oz lemon-lime soda
¼ cup whipped cream
2 Tbsp chocolate syrup
1 each churro
As needed ground cinnamon
"Fried" Ice Cream Coating
6 cups Corn flakes
2 Tbsp Unsalted butter, melted
¼ cup Sugar
1 tsp Ground cinnamon
Order Product
---
Instructions
Make the "fried" ice cream: roll each scoop of cinnamon ice cream in the "fried" ice cream coating until completely covered. Re-freeze until firm.
Dip the rim of a standard pint glass in water, then in cinnamon sugar to create a cinnamon sugar-rimmed glass. (Rimmed glasses can be prepared up to 24 hours in advance.)
Scoop three coated #12 ice cream scoops into prepared glass. Top with horchata and soda.
Top float with whipped cream and drizzle with chocolate syrup. Place churro across glass, garnish with additional ground cinnamon if desired.
"Fried" Ice Cream Coating
Place corn flakes in a food processor and process until coarsely crushed. Add melted butter, sugar and cinnamon; pulse until butter is evenly distributed.
Coating will hold, refrigerated, for up to three days.