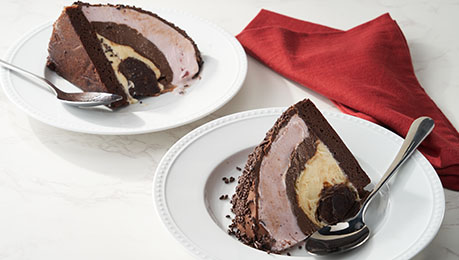 A large dome covered in hard chocolate and sprinkles is filled with layers of strawberry, vanilla and chocolate ice cream and a fudgy brownie center.
---
Ingredients
1-4 oz scoop each of Blue Bunny® Vanilla, Chocolate & Strawberry Premium Ice Cream
1 sheet of chocolate fudge brownies, 1" thick on a baking sheet, 1" thick on a baking sheet 2" diameter formed in a ball
7 oz Magic Shell Chocolate Topping
1 cup sprinkles
36 oz bowl
Plastic wrap
Order Product
---
Instructions
Ice Cream Layers: Use plastic wrap to cover the inside of the bowl to create ice cream layers one at a time
Line bowl with plastic wrap then evenly spread strawberry ice cream in a 0.5" layer coating the inside of the bowl.
Place in freezer for at least 1 hour.
Repeat process with chocolate & vanilla ice cream.
Brownie center & bottom
Remove bowl with ice cream layers from freezer, fill hollow center with chocolate fudge brownie that has been formed into a ball.
Place filled bowl on top of a sheet of brownie and trim around bowl.
Return to freezer for at least 12 hours.
Dome
Remove cake from freezer. Place plate atop of bowl and flip over for cake to fall out of bowl onto plate.
Cover cake with magic shell and sprinkles, pressing into chocolate to stick.
Return to freezer for 30 minutes and serve in slices or whole.