PB & J Ice Cream Sandwich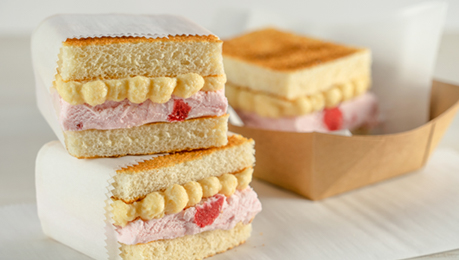 ---
Ingredients
2 each Texas Toast, toasted, crusts removed
2 #30 scoops Blue Bunny® Strawberry Premium Ice Cream
1/4 cup Peanut Butter Marshmallow (recipe below)
Peanut Butter Marshmallow, makes 4 cups
1 cup Marshmallow Cream, store bought
¾ cup Peanut Butter, creamy
½ cup Butter, unsalted
2 cups Powdered Sugar
1 cup Heavy Cream
Order Product
---
Instructions
Spread out ice cream onto a parchment lined sheet tray and allow to freeze solid, overnight if possible. 
Toast bread in the toaster and remove the crusts, then allow to cool.
Spread 2 tbsp of peanut butter cream on each slice of bread.
Cut out a 2 oz square piece of ice cream from the ice cream sheet as the same size as the bread.
Place ice cream on the bottom heel of sandwich, and top with the top heel.
Peanut Butter Marshmallow Instructions
In a mixing bowl on low speed, combine marshmallow cream, peanut butter, butter, and salt until well blended. 
On low speed, add in powdered sugar alternatively with heavy cream until smooth and fluffy.