Pistachio Ice Cream Cake Roll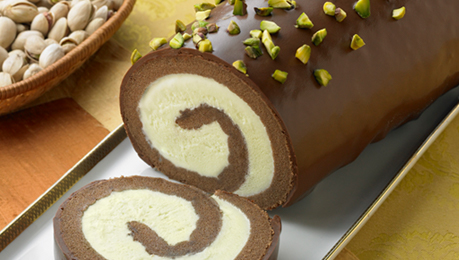 Moist chocolate cake is layered and rolled with creamy Blue Bunny® Pistachio Almond Ice Cream, drenched in chocolate ganache and topped with chopped, roasted pistachios.
---
Ingredients
4 cups (32 fl. oz.) chocolate ganache
4-1/2 qts. (7.5 lbs.) Blue Bunny® Pistachio Almond Ice Cream
2 cups (16 oz.) roasted pistachios
​​​​​​​2 qts. (8 cups) chocolate cake mix
Order Product
---
Instructions
2 – 13" x 9" chocolate cakes
Make chocolate cake mix according to directions.
Pour 2 cups cake batter into parchment lined 13" x 9" jelly roll pan and bake according to directions.
Let cake cool.
scoop 2-1/4 qts. of Blue Bunny Pistachio Almond Ice Cream on each cake.
Using a spatula, spread out ice cream leaving 1/2" of the edge of cake uncovered.
Place sheet pan back in freezer for 5 – 10 minutes, letting the ice cream become somewhat hard again.
Starting at the 9" side of the cake, roll cake, making a log shape.
Place back in freezer.
Heat chocolate ganache and completely cover pistachio cake roll.
​​​​​​​Just before ganache becomes hard, sprinkle 1 cup of roasted pistachios over each cake roll.
Place in freezer until ready to serve.