Psychedelic Cereal Sundae - Single Serve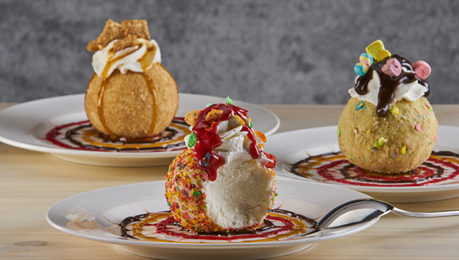 Three scoops of vanilla ice cream, each coated with different breakfast cereals, topped with whipped cream and a different sauce for each.
---
Ingredients
1 fl oz Hot Fudge Sauce
1 fl oz Salted Caramel Sauce
1 fl oz Strawberry Sauce
1 #8 scoop Blue Bunny® Vanilla Bean Ice Cream, coated with choice of cereal; crushed fruit cereal, cinnamon cereal, or rainbow marshmallow cereal.
¼ cup Whipped Cream Topping
2 tsp Strawberry Sauce, Salted Caramel Sauce, or Hot Fudge Sauce
1 tbsp Same chosen cereal from above
Order Product
---
Instructions
Swirl the hot fudge, salted caramel, and strawberry sauces in a spiral around the serving plate. - Using a fork, drag toward the outer edge of the plate to create tie dye design.
Place the cereal crusted ice cream onto the plate.
Top each with a swirl of whipped cream.
Drizzle the whipped cream with sauce: - Strawberry sauce on the fruit cereal ice cream - Salted caramel sauce on the cinnamon cereal ice cream - Hot fudge on the rainbow marshmallow cereal ice cream
Garnish with additional cereal.