S'more, Please Sundae - Single Serve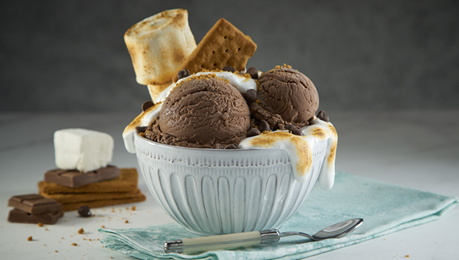 Chocolate ice cream layered with graham cracker toffee, marshmallow fluff, and chocolate sauce. Topped with a swirl of marshmallow crème and garnished with a skewer of toasted jumbo marshmallows and graham crackers.
---
Ingredients
1 fl oz Dark Chocolate, melted
2 #12 scoops Blue Bunny® Chocolate Ice Cream
¼ cup Graham Cracker Toffee
4 fl oz Marshmallow Creme
1 each Jumbo Marshmallows, toasted
2 each Graham Cracker Squares
1 tsp Chocolate Chips, Dark
Graham Cracker Toffee (makes 6 cups)
24 each Graham Cracker Squares
11 oz Butter, unsalted
1 1/3 cup Brown Sugar, light
2 ¾ tsp Salt, Kosher
Order Product
---
Instructions
Using melted chocolate, create zig zag designs around the inside of a small bowl.
Layer 2 fluid ounces marshmallow crème and ¼ cup graham cracker toffee.
Top with 2 scoops chocolate ice cream.
Top with 2 fluid ounces marshmallow crème (optional; toasted), and garnish with chocolate chips, graham cracker squares, and a skewer, straw, or spoon stacked with 1 jumbo toasted marshmallow.
Graham Cracker Toffee
Line a half sheet with a silpat. Arrange graham crackers in a single layer on top of silpat.
In a medium saucepan, whisk together butter, brown sugar, and salt. Bring to a boil. Simmer for an additional 4 minutes, stirring occasionally.
Pour mixture evenly over graham crackers.
Bake at 350° for 8-10 minutes. Let cool.
Pulse in food processor into small pieces.