Strawberry Cheesecake Shake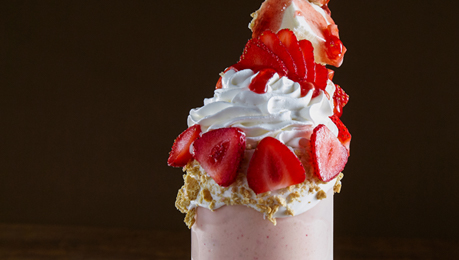 Strawberry cheesecake ice cream blended with fresh strawberries, served in a white chocolate and graham cracker rimmed glass; topped with fresh strawberries and a skewer of cheesecake squares.
---
Ingredients
4 Tbsp white chocolate
2 Tbsp graham crackers, crushed
5 strawberries, sliced
3 #12 Scoops Blue Bunny® Strawberry Cheesecake Ice Cream
2 each, strawberries
3 fl oz whole milk
¾ cup cheesecake squares
¼ cup whipped cream topping
1 fl oz strawberry sauce
Order Product
---
Instructions
In microwave-safe bowl, heat white chocolate in microwave to melt; 15 seconds at a time, stirring, and repeat until smooth. Dip 16 oz. pint glass rim into melted white chocolate and then into crushed graham crackers and two sliced strawberries; set aside to cool.
Place strawberry cheesecake ice cream, two sliced strawberries and whole milk into blender; blend until smooth.
Place cheesecake squares onto skewer; set aside.
Pour milkshake into rimmed pint glass.
Garnish with whipped cream, sliced strawberries, cheesecake square skewer, and then finish with drizzle of strawberry sauce.